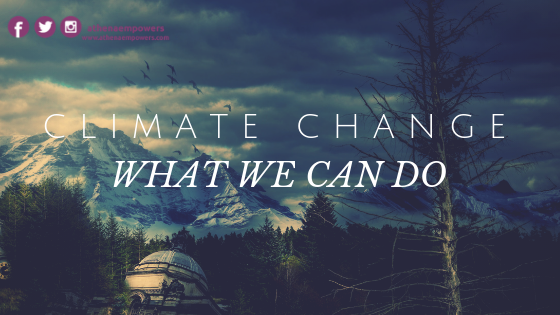 As the world warms, extreme weather events are becoming more frequent and intense, sea levels are rising, prolonged droughts are putting pressure on food crops, and many animal and plant species are being driven to extinction. It's hard to imagine what we as individuals can do to resolve a problem of this scale and severity.
"In a world of more than seven billion people, each of us is a drop in the bucket. But with enough drops, we can fill any bucket." - David Suzuki
What we can do to minimize the impact of climate change?
1. Green your commute
The many ways to reduce your transportation emissions will also make you healthier, happier and save you a few bucks. Whenever and wherever you can:
Take public transit.
Ride a bike.
Car-share.
Switch to an electric or hybrid vehicle.
Fly less (if you do fly, make sure you offset your emissions).
2. Use energy wisely — save money, too!
The small changes you make add up:
Change to energy-efficient light bulbs.
Unplug computers, TVs and other electronics when you're not using them.
Wash clothes in cold or warm (not hot) water.
Dryers are energy hogs, so hang dry when you can and use dryer only when you can't.
Install a programmable thermostat.
Look for the Energy Star label when buying new appliances.
Get a home or workplace energy audit to identify where you can make the most energy-saving gains.
3. Consume less, waste less, enjoy life more
"We use too much, too much of it is toxic and we don't share it very well. But that's not the way things have to be. Together, we can build a society based on better not more, sharing not selfishness, community not division." ~ The Story of Stuff
Focusing on life's simple pleasures — spending time in nature, being with loved ones and/or making a difference to others — provides more purpose, belonging and happiness than buying and consuming. Sharing, making, fixing, upcycling, repurposing and composting are all good places to start.
4. Eat for a climate-stable planet
"Eat food. Not too much. Mostly plants." ~ Michael Pollan
Here are four simple changes you can make to your diet to reduce its climate impact.
Eat meat-free meals.
Buy organic and local whenever possible.
Don't waste food.
Grow your own.
5. Tell your story, listen to others
A healthy planet and stable climate aren't political issues. It's all about families, communities, energy systems and humanity's future. It's important to get everyone on board, working toward climate solutions.
People are more often influenced by friends than by experts, so make sure to talk about climate change with friends and family. Tell your stories — about changes you've seen where you live, how climate change has affected you, and the changes you're making to lessen your impact. Encourage friends and family to explore what they can do about climate change.