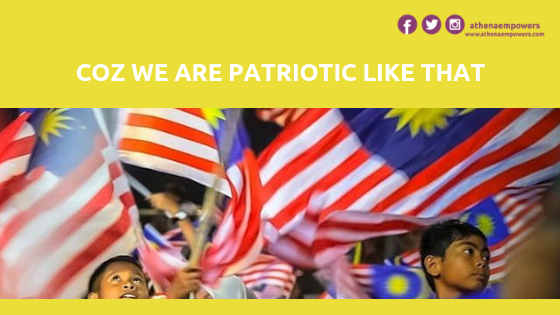 We are celebrating our beloved Malaysia's 62nd Merdeka this weekend. It is time for us to show our deepest appreciation. Renewed by the spirit of Sayangi Malaysiaku: Malaysia Bersih, here are six ways to show your love and patriotism to the country we call home.
1. Performing our civic duty
Start small by paying back our student loans for instance. A small contribution can make a huge difference in making sure that our future generations are not denied of their rightful access to education.
Likewise, we should also improve on our attitude by obeying traffic rules, picking up after ourselves and to always be punctual.
2. Respecting the Jalur Gemilang and Negaraku
When we were in school, we often get reluctant whenever we are asked to do anything patriotic. But that should not have been the case.
It should have been instilled in our hearts because Malaysia is our home and we should always love our country no matter what happens.
That is why this coming Merdeka Day, we should wave the Jalur Gemilang up high and sing "Negaraku" loud and proud.
3. Explore every part of Malaysia
Divided into 13 states and three federal territories, Malaysia is a treasure trove of cultures and wonders. And what better way to learn about the uniqueness of each state than to visit each individually.
Want to learn about the nation's early trading history? Visit the historical cities of Melaka and Penang and see the blend of old and new in vibrant display.
Or perhaps you are more into nature and natural wonders? Then hike the tallest mountain in the region - Gunung Kinabalu - in Sabah or explore the largest cave chamber in the world at Mulu National Park, Sarawak.
There are many destinations in the country that are yet to be explored.
4. Celebrate our differences
Made up of a multicultural and multifaceted society, each thread forms the fabric that is uniquely Malaysian. Let us celebrate our diversity and be more tolerant towards one another especially after the recent wave of change.
Even though we may have our differences, at the end of the day we are all human beings living under the same multiracial and harmonious roof.
5. Eating (and Instagramming) our drool-worthy food
Malaysia is without a doubt a country that is well-known for its food. It has been making headlines from the nasi lemak dress to the crispy chicken rendang, and just recently, the famous curry laksa that made its way onto Lonely Planet's Ultimate Eatlist.
While curry laksa may enjoy its time in the limelight, there is one other dish that best describes Malaysia in one plate – the rojak. This unique local dish combines elements from the different races and the combination truly reflects our distinctive and beautiful flavour.
Regardless of what Malaysian food is your favourite, eating is perhaps the easiest way to show our love for the country. So be sure to Instagram it to the world!
6. Get to know local brands and show your support.
Purchase Malaysian made cloth pad Athena for instance and know their mission to empower girls on education. Not only that but buying more local products, investing more in our national companies, and establishing more small and medium enterprises (SMEs) help boost our economy
So, don't let this opportunity slip by. Although we can show patriotism everyday but we shall renew our ikrar for better Malaysia and value our independence on 31st August every year.