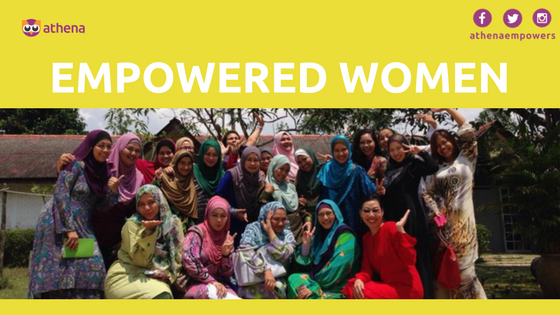 International Women's Day (March 8) is a global day celebrating the social, economic, cultural and political achievements of women.
The day also marks a call to action for accelerating gender parity. International Women's Day (IWD) has occurred for well over a century, with the first March 8 IWD gathering supported by over a million people in Austria, Denmark, Germany and Switzerland. Prior to this the Socialist Party of America, United Kingdom's Suffragists and Suffragettes, and further groups campaigned for women equality.
Today, IWD belongs to all groups collectively everywhere. IWD is not country, group or organisation specific. Make IWD your day! - everyday! - www.internationalwomensday.com
Athena strongly believes in empowerment to be the fundamental of self actualization. Self empowerment implies self belief, trust, and self leadership. Being self empowered, you will KNOW you have an active role in creating the future of your dreams and your world.
"As soon as you trust yourself, you will know how to live."
Johann Wolfgang von Goethe
And having an active role in the community starts within yourself. The vibes goes beyond you around your circle of family and friends, your community and country.
It's important, in these moments, to remember the point of the day, which is to remember the important steps women have taken towards equality in the past, and also look to the future.
Despite some recent progress around the world, too many women still face tremendous barriers to participation in all aspects of life. This must change.
The theme this year is #PressForProgress.
The theme comes in response to the World Economic Forum Global Gender Gap Report which measured gender inequality.
The report found that we are still 200 years away from gender parity in the four main themes studied:
Economic Participation and Opportunity
Educational Attainment
Health and Survival
Political Empowerment
Press for Progress is supposed to be a call for people to press forward without complacency, and make positive changes and move towards equality. The idea is that the theme doesn't only apply to the day itself, and should be carried right through the year to inspire action and gain a focus for any initiatives or campaigns.
" Be the change you wish to see in the world " - Mahatma Gandhi
Empowered women will #pressforprogress for better future and it all starts now!