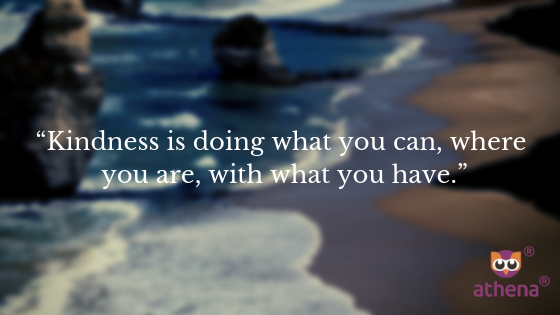 "Three things in human life are important. The first is to be kind. The second is to be kind. And the third is to be kind." - HENRY JAMES
How great is it that our random acts of kindness and good deeds can make someone else's entire day?
We want to share some original ideas that you can try out immediately!
1. Put 50–100 paper hearts or smiley faces in a box. On each cutout write something that is special about your lover or a good friend. Give her the box and tell her to pull out a heart or smiley face anytime she gets lonely or wants a pick me up.
2. Find opportunities to give compliments. It costs nothing, takes no time, and could make someone's entire day. Don't just think it. Say it.
3. On Mother's Day and Father's Day, remember any friends who have lost a parent the previous year, and check in with them. Those will be tough days.
4. "Want me to pick something up for you?" If you know someone is overwhelmed – perhaps by a new baby, family health issues, or something else – give them a call when you're going out to the store. Ask if they'd like you to pick something up. We've been the beneficiaries of this random act of kindness, and it's great.
5. Put a surprise note or sketch in with your spouse's or kid's lunch.
6. After a wedding or party donate all of the flowers to a nursing home. If you want to see the impact of these random acts of kindness, personally deliver a flower to each resident. You could also bring the flowers to a hospital and ask the receptionist to distribute them to patients who could use them.
7. Tell someone the truth. Sometimes it's really hard, but it's what friends do.
8. Say "thank you" to someone who made a difference. . . .Send a card to people who dedicate their lives to helping us – soldiers, police officers, fire fighters and teachers to name a few.
9. Keep an extra umbrella at work, so you can lend it out when it rains.
10. Be sure to also share in a work setting. When you get great service tell the person who helped you. Then, tell a manager. Go to the corporate web site and submit an email.
Write a positive online review of a business you like. It makes a difference. And, don't forget to point out those people at your work who do a great job.